TO JOIN THIS WEBRING
1. You must have an official Empire with a valid website.

2. Click on "Want to join this QUEENSR˙CHE GLOBAL
EMPIRES WEBRING?" below and fill out the form.
Webring will generate your HTML fragment in an e-mail to you.

3. You will be added to the "queue". When I have checked
your page and made sure the html fragment has been added,
I will move your site into the "ring".

4. That is basically it! For more info just send me an e!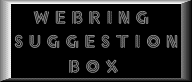 Leave a comment
or suggestion!